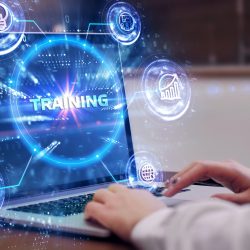 One of the biggest security risk factors in your entire company are still your employees. The only proper way to reduce this risk, is by organizing security trainings every now and then. Spinae offers a number of different IT security trainings to help you reduce the human aspect of your risks.
In the modern threat landscape, every individual employee is responsible for email security. A single mistake can have serious consequences, not just economically but also on the safety of your employees. 
It is therefore extremely important that your employees are trained and aware of modern threats and attacks. Spinae provides such trainings for your employees.
Ransomware, a word that sends shivers down every employee's spine. It has become so big that there isn't a day going by without the word ransomware being mentioned. For cybercriminals it's a goldmine, but for businesses it's hell.
Spinae does ransomware readiness assessments to help businesses mitigate the threat of ransomware. And together with these assessments, Spinae also offers trainings to help users recognize suspicious content and prevent ransomware from breaching your security.